I love anything that reminds me of the sea…here is a wonderful suite called  TRANQUIL TEXTURES with simple images and embellishments designed to give your projects gorgeous texture with rich color from the 2018-2019 SU Annual Catalog.  This set appeals to all ages.  Keep it simple or add the shaker element and a simple sentiment on the outside and it is perfect for any teenager or young person.  Choose to embellish with netting, coral spikes, and seaweed textures to turn your card into a work of art that will be appreciated and admired by your recipient.  This set also fits well with any nautical themed cards.  If you love anything from the sea…this is a set that can't help but grab your imagination.
I wanted to present two projects which are easy to make and will delight anyone.   The first project is an easy Octopus Card that can be simple or you can take it to "wow" with a couple extra steps and embellishments.  My "how to" video walks through all the steps for making this card.   The second project is an under-the-sea shaker card that is fast and easy if you follow all my steps in my video tutorial as the second card in the series of projects featuring the TRANQUIL TEXTURES Suite.  The Stamp-a-ratus makes aligning the shaker cut out with the stamped image on the inside of the shaker card.  I have made several shaker cards using this tool and it is wonderful!
FAST and EASY Octopus Card…from SIMPLE to WOW!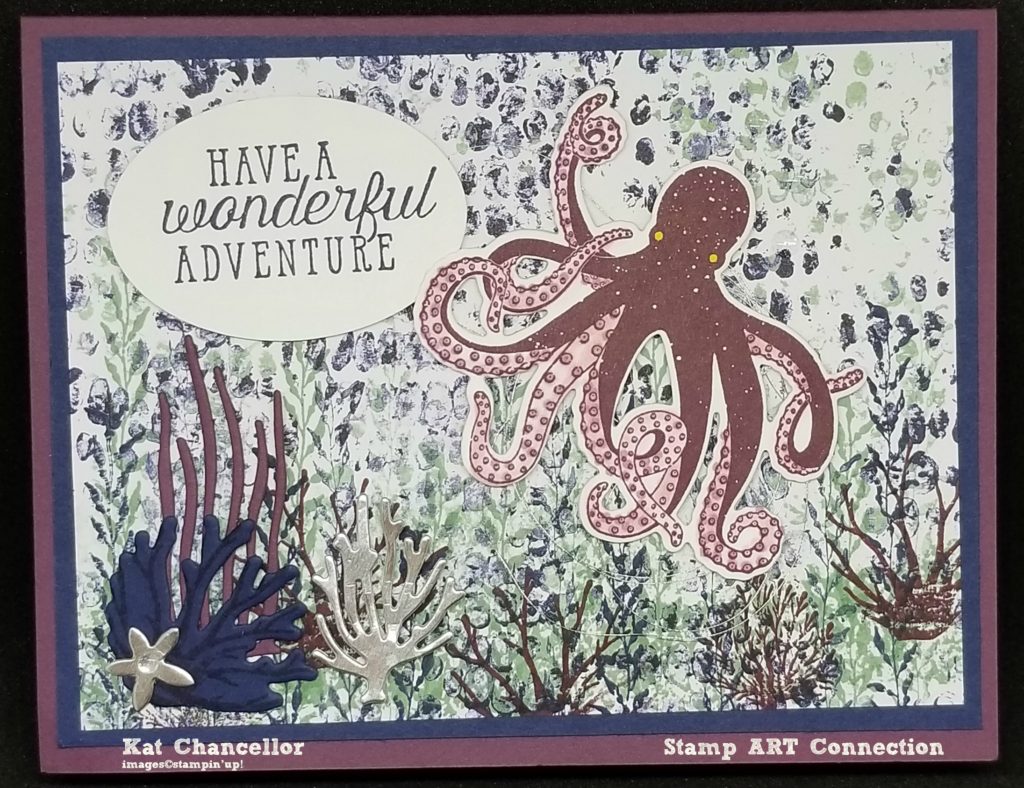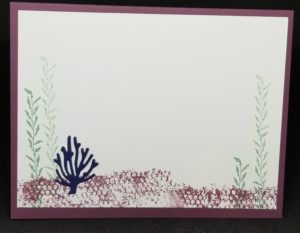 To create this simple card I used:
NIGHT OF NAVY, FRESH FIG and WHISPER WHITE cardstock using the standard card size of 5.5″x4.25″ and layers at 5.25″x4″ and 5″x3.75″.
NIGH OF NAVY, FRESH FIG, and MINT MACARON inks
The Tranquil Textures Designer Series Paper has great patterns and textures that lend itself to this project as well as other projects as well.
SILVER FOIL SHEETS
METALLIC PEARLS
SILVER METALLIC  THREAD
For coloring use:  STAMPIN' BLENDS Alcohol Based Markers in RICH RAZZLEBERRY and PINK PIROUETTE.
CLICK HERE FOR "HOW TO" VIDEO: 
Under-the-Sea Shaker Card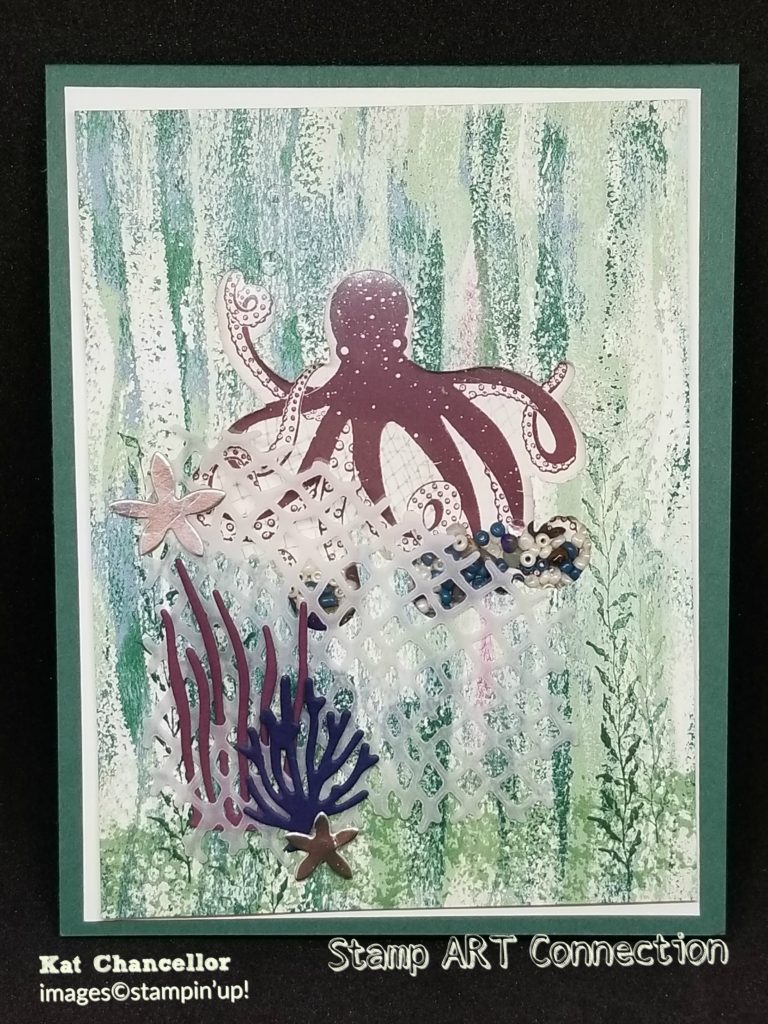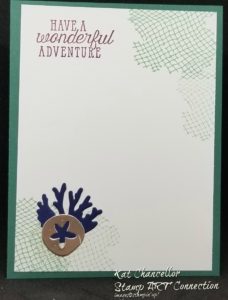 TRANQUIL TIDE, FRESH FIG, NIGHT OF NAVY, and WHISPER WHITE cardstock.
The base card (Tranquil Tide) is the standard card size of 5.5″x4.25″ and layers at 5.25″x4″ (Whisper White) and 5″x3.75″ for the Tranquil Textures Designer Series Paper.
NIGHT of NAVY, FRESH FIG, and MINT MACARON inks for stamping.
SILVER FOIL SHEETS
TRANQUIL TEXTURES SPRINKLES
METALLIC PEARLS (new catalog)
VELLUM PAPER
3″x3″ WINDOW SHEET
LONG FOAM ADHESIVE STRIPS
You will also need a BIG SHOT and the PRECISION BASE PLATE.
CLICK HERE FOR "HOW TO" VIDEO: 
PRODUCT LISTING: