Let me tell you about the best offer during Sale-A-Bration!
HERE IT IS: You get TWO options to purchase the "starter" kit or as I like to think of it as…..the ULTIMATE bundle!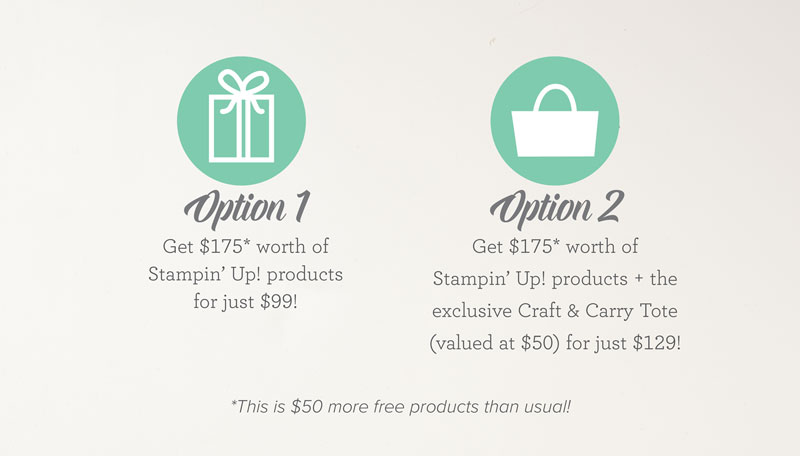 Why do I call it the Ultimate bundle — because it's an opportunity to get $50 more in free products than usual and a chance to select the new exclusive CRAFT & CARRY TOTE (at a discounted price of $30) under OPTION 2.
This is usually an offer to entice crafters who want to join as a Demonstrator — However, there is ABSOLUTELY no obligation to meet any of the Demonstrator requirements once you purchase your "ultimate" bundle from me or SU! There's no obligation to host workshops or parties, sell products to others or personally purchase anything beyond the kit!
20% DISCOUNT: If you join in January you may purchase additional products and take advantage of the 20% demonstrator discount and benefits (preview/pre-order from the NEW Annual Catalog in April) until 30 June!
JOIN RISK-FREE! If you don't reach $300 in sales by 30 June, you can "drop" with no obligation!
Gotohttp://www.stampinup.net/esuite/home/stampartconnection/jointhefun